Founded in 2003, Excel Christian School is a K-12 private day school and a non-profit corporation (501 (c)(3).
Accreditation News! Praise God!

The recommendation from the ASCI (Association of Christian Schools International) visiting team is full accreditation for Excel Christian School: a 5-year term. We'll receive the official notification in mid-June. Many people worked so hard to make this happen, but we give all the glory to God!

There are more than 23,000 schools from 100 countries that are ASCI members.  This includes 3,000 member schools (preschool to grade 12) in the United States and 120 member Christian colleges and universities.  Of the 3,000 member schools in the United States, less than 30% are accredited and even less have the full 5-year term.  Upon notification of the ACSI accreditation, Excel will be moving forward in receiving a dual accreditation with AdvancED/Northwest Accreditation Commission (NWAC).

This is truly great news for Excel Christian School.

It is a confirmation of what we are doing now, and sets the school on a path of continuous improvement.
Licensing
There are two types of legal private schools in Nevada: licensed and exempt. Because of our convictions and our philosophy of education, Excel is operated as an exempt school under the provision of NRS 394.211 and as such is exempt from the provisions of the Private Elementary and Secondary Education Authorization Act. To maintain our exempt status, we are responsible for providing an education that is comparable to the public schools, and we strive to go even beyond the state and county standards. We are also accountable for the safety of our students by providing a quality facility.
Accreditation
Excel has received full accreditation through the Association of Christian Schools International (ACSI).
Student Body
Excel has a culturally and economically diverse student body. We are a SEVIS-approved school, enabling us to accept international students.
Academic Program
Excel follows the Nevada requirements for the number of days in school (180) and the number of hours per subject of instruction, with additional time for Christian studies. Excel's middle school and high school classes are on a 90-minute block schedule, except for Christian Studies, which meets daily.
Credits
High school graduation requirements are the same as Washoe County's.
Honors Diploma Program Honors and Advanced Placement (AP) classes are for students who:
maintain at least a 3.4 grade point average with no F's
obtain the permission of the instructor
have the self-motivation to work beyond the normal course requirements and the self-discipline to do independent study
Students who graduate under the requirements of the honors program receive a distinctive diploma and a statement on their official high school transcript indicating they are graduates of the honors program.
AP classes are currently offered in English and American history. Honors classes are available for any of the core academic classes.
Grading and Ranking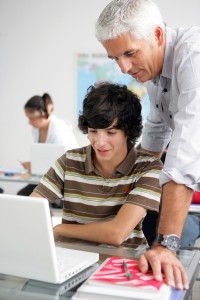 AP and Honors class grades are weighted .25 points. A valedictorian and salutatorian are designated each year, based on grade rank.
Testing
Excel administers several tests throughout the year:
PSAT to all sophomores and juniors
AP tests for all students enrolled in AP classes
Nevada Proficiency Exams
Terra Nova Tests